The Ultimate Souvenir: The Royal Mint Strikes £40,000 Solid Gold Kilo Coin to Mark Royal Wedding
28 Apr 2011
The Royal Mint has created a unique piece of Royal Wedding history like no other. Only 40 of the 22 carat gold 'kilo'* coins, featuring a traditional portrait of Prince William and Miss Catherine Middleton, have been struck at its site in Llantrisant, South Wales. Made from a kilogram of solid gold and selling for £40,000, it is the first time in the Royal Mint's 1,000 year history that kilo coins have been made to celebrate a Royal Wedding day. Making them amongst the most expensive, rare and exclusive items to commemorate the Royal Wedding.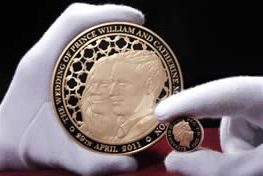 Each kilo coin is 10 centimetres in diameter, nearly four and a half times the size of a standard £1 coin. Produced individually and finished by hand, the Alderney coins have a face value of £1,000, which is five hundred times greater than the highest value coin in circulation – the £2 coin.
In addition, 200 pure silver kilo coins have also been produced. With a face value of £50 and selling for £1,650, the silver kilos also have a diameter of 10 centimetres. With such limited numbers of each being produced, they are destined to be added to the collections of royal enthusiasts around the world, by those looking to commemorate the special day with a genuinely remarkable souvenir.
Gordon Summers, the Royal Mint engraver behind the design said: "It's a huge honour to be the designer of a coin commemorating the Royal Wedding, especially a limited edition kilo. I wanted to capture the couple in a formal portrait, seen side by side, with William in the foreground of the design. Because of the coin's dimensions, I had the freedom to create an intricate backdrop. Portraying Westminster Abbey's famous Rose window, the magnificent venue for the big day, was an instinctive choice."
Kevin Clancy, Director of the Royal Mint Museum said: "A kilo coin is extremely rare and unlike any other coin created by the Royal Mint due to its size and weight, which are governed by law. Only very special events are therefore commemorated with a coin of this size."
The kilos will be available on a first come, first served basis, from the Royal Mint website. To see the full range of wedding products go to www.royalmint.com/royalwedding