Royal Mint reveals official Diamond Jubilee coin
11 Oct 2011
60 Years of Monarchy Captured for Eternity
As anticipation builds towards the Diamond Jubilee, the Royal Mint reveals two new portraits of The Queen together on a single official coin to mark the occasion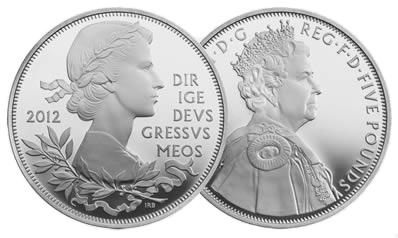 For Her Majesty The Queen's Diamond Jubilee in 2012 the Royal Mint has unveiled the only official UK £5 coin struck to mark the historic occasion, featuring two new and exclusive portraits of the monarch.
Designed by Ian Rank-Broadley FRBS to celebrate a remarkable royal milestone, the portraits encapsulate The Queen's 60 years on the throne, a regal achievement matched only by the reign of Queen Victoria, the Queen's great-great grandmother.
The first of the new portraits shows a contemporary image of Her Majesty dressed in formal Garter Robes, captured with gravitas and stately bearing. The other portrait, inspired by the first portrait of The Queen to appear on coins from 1953, features a young monarch classically depicted, wearing a laurel crown alongside the Latin words Dirige Deus Gressus Meos – May God Guide My Steps.
Combined, both portraits tell a celebratory story of a rich, historical reign, from the fresh and optimistic beginning of a new Elizabethan era to the gravitas of an assured and dignified Head of State, 60 years on.
All UK coins must be approved by Buckingham Palace and the official Queen's Diamond Jubilee £5 coin is no exception. Because of the fact the new portraits will appear together on this one coin celebrating this landmark event, the Royal Mint is anticipating significant demand from around the world. The UK £5 coin is the ideal choice for people wishing to mark the Diamond Jubilee with a permanent and treasured souvenir that can be passed from one generation to the next.
Commenting on the new coin, Kevin Clancy, Director of the Royal Mint Museum said: "Working with some of the finest artists in Britain, the Royal Mint has captured The Queen's likeness on the coinage for almost 60 years and in her Diamond Jubilee year we wanted to honour her remarkable achievements with a remarkable coin. Ian's new portraits tell the story of The Queen's long reign with beauty and elegance, dignity and character, evoking the spirit of The Queen as only a truly gifted artist can".

Issue date: Tuesday October 11, 2011. Photographs supplied by David Parry/PA Wire
The Official Queen's Diamond Jubilee UK £5 coin is available now from the Royal Mint's website www.royalmint.com priced at £12.99. The precious metal coins will be available in January 2012.