The Royal Mint hosts Prime Minister's first cabinet meeting in Wales
13 Jul 2011
The Royal Mint yesterday hosted the Prime Minister's first government cabinet meeting in Wales. The highly secure Llantrisant site was specifically chosen due to the Royal Mint's long history and heritage as a leading British manufacturer and position as a leading UK export business.
Prior to the meeting the cabinet were given a guided tour of the Royal Mint's circulating and commemorative coin production facilities to observe the scale of the work conducted by the Royal Mint as both a producer of UK coinage and service medals and as the leading export mint in the world which typically supplies coins and medals to approximately 60 countries each year. The tour included the production facilities for UK and international coinage, and the commemorative coin plant where excitement is building ahead of the London 2012 Olympic and Paralympic Games, and Diamond Jubilee.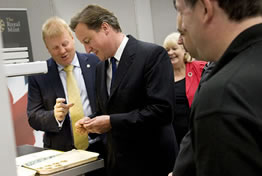 The Prime Minister and William Hague were given the opportunity to strike a gold UK £5 "Countdown" coin, created to mark the One Year To Go milestone ahead of the London 2012 Olympic and Paralympic Games, which will be celebrated on 27 July. They were also shown the range of service medals created by the Royal Mint, including the Afghanistan Service Medal and the George Cross, and met and talked with a number of Royal Mint staff.
Adam Lawrence, Chief Executive and Deputy Master of the Royal Mint said: "It is a great honour that the Royal Mint was chosen for David Cameron's first cabinet meeting in Wales under this government. We are very proud to have the Prime Minister and his cabinet on site here at Llantrisant and to have the opportunity to showcase the Royal Mint as the World's leading export mint.
This is a key event in what is an extremely exciting time for the Royal Mint, particularly as we fulfill our role as producer of the victory medals and commemorative coins for the London 2012 Olympic and Paralympic Games as well as our range of commemorative coins for the Diamond Jubilee and expand our international presence for circulation coins through our aRMour™ plated technology. This is further evidence that we are a successful and profitable business, with a large product range, strong brand and ambitious plans for growth."
Images of the site are available upon request.