Chancellor of the Exchequer Opens Pioneering Coin Production Facility at the Royal Mint
05 Mar 2011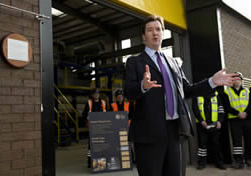 During a visit to The Royal Mint in Llantrisant today, the Chancellor of the Exchequer, Rt Hon George Osborne MP, officially opened two new nickel plating production facilities. The new facility represents a £16.5 million investment and is one of the largest undertakings in the Royal Mint's history.
The new plant will double the Royal Mint's nickel plating production capacity to about 15,000 tonnes per annum, at a time when the demand for plated coins around the world is increasing. It marks an acceleration in the Royal Mint's five-year growth plan and will enable the organisation to capitalise on significant opportunities in the marketplace.
The Royal Mint has seen increasing demand for its plated steel products over the past few years following the development of aRMour™, a patented advanced plating technology which results in significant savings to central banks, issuing authorities and governments that use them.
Chancellor of the Exchequer and Master of the Mint, Rt Hon George Osborne MP said: "As a manufacturer, exporter and employer based in South Wales, the Royal Mint is a real British success story. I'm proud to open this new facility which will allow the Royal Mint to build on this success."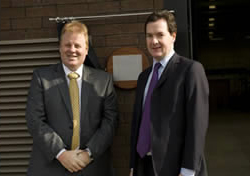 Adam Lawrence, Chief Executive and Deputy Master of the Royal Mint said: "The new facility represents a significant investment by the Royal Mint and forms an important part of our growth strategy that will strengthen our competitive edge and the reputation we already have for producing coins of the highest quality.
This is an exciting time for the Royal Mint, particularly as we fulfill our role as official producer of the athlete medals and commemorative coins for London 2012 next year. We are a successful and profitable business, with a large product range, strong brand and ambitious plans for growth."
Mike Davies, Chairman of the Royal Mint said "With more than 1,000 years of experience, the Royal Mint is very proud of its heritage. We are also one of the world's leading export mints, pioneering the development of state-of-the-art coin production technology. We are honored that the Chancellor has been to open the new facility marking the start of a new period of development and innovation at the Royal Mint."
Images of the site are available upon request.