100th Anniversary of the Titanic Marked with a £5 Coin
17 Feb 2012
The Royal Mint today releases the Titanic £5 coin in remembrance of the 100th anniversary of the historic ships' maiden voyage in 1912. Designed by Royal Mint engraver, Lee Robert Jones, the coin commemorates a maritime legend.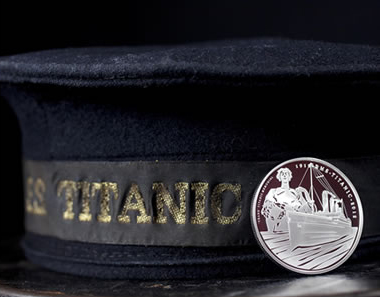 The coin depicts the instantly recognisable profile of RMS Titanic with the goddess Thane looking down on the ship as it sails through the Atlantic ocean. Erected on 26th June 1920 as a memorial to all those who died, the marble figure of the goddess stands in Belfast, home of the Harland and Wolff shipyard, the biggest in the world at the time, where Titanic was constructed.
Commenting on his design, Jones said, "My design is concerned with the spectacle of the ship and her story. Thane, the goddess of death, is to reflect the significance of the event; she symbolises respect and sorrow for the loss that ultimately occurred. Her stark silhouette contrasts with the detailed image of Titanic, cutting through the waves with purpose and pride."
The first voyage of RMS Titanic, the largest passenger steamship in the world at the time, began on 10 April 1912, when she set sail from Southampton to New York, with 2,223 people on board. Owned by the White Star Line, the luxurious passenger liner was one of three sister 'Olympic class' ships built to cater for the most elite passengers, her lavish fittings reflecting the opulence and elegance of the Edwardian age.
Late on the morning of 14 April 1912, RMS Titanic struck an iceberg leading to the ship sinking less than three hours later, a disaster that resulted in the loss of more than 1,500 lives.
Commenting on the new coin, Dr Kevin Clancy, Director of The Royal Mint Museum, said: "The story of Titanic has long captured imaginations. The passing of 100 years has not lessened the interest in the tragic outcome of her maiden voyage, the personal stories of those on board or the achievement of the iconic ship as a feat of British engineering. The Royal Mint's coin will mark this occasion and, we hope, will be passed on to future generations to honour the lives that were lost, underlining the significance of RMS Titanic in British history."
The Titanic Alderney 1 £5 coin is available in Brilliant Uncirculated and Silver Proof for £12.99 and £82.50 respectively. For further information, please visit www.royalmint.com.
Footnotes
1The commemorative £5 coin is issued under the authority of the Channel Island of Alderney. The coin is legal tender in both the Channel Island and the UK, but it will not be issued into circulation. Alderney has issued commemorative coins since 1989.