The Royal Mint unveils the official UK coin commemorating the wedding of HRH Prince William of Wales and Miss Catherine Middleton
17 Mar 2011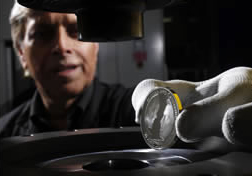 The only official UK coin being struck to commemorate the wedding of Prince William to Miss Catherine Middleton has gone into production today at the Royal Mint in Llantrisant, South Wales.
Approved by the Royal Household and the Government, the coin features relaxed, modern portraits of the couple, an approach also evident in the informal use of their names and the date of the wedding circulating their portraits. The obverse bears a portrait of Prince William's grandmother, The Queen.
The coin has been designed by Mark Richards, Fellow of the Royal Society of British Sculptors, following an invitation- only tender process involving a handful of British sculptors. His submission was selected by the Royal Mint Advisory Committee, a panel made up of experts in art, design, history and heraldry, chaired at the time of the decision by Sir Christopher Frayling, former Rector of the Royal College of Art.
Commenting on his success Mark Richards said: "It's a tremendous honour and privilege to have been chosen to design the Royal Wedding coin. As a sculptor I'm used to working in 3D, so my specific challenges were not only capturing the nuances of Catherine Middleton and Prince William's features, but also faithfully rendering their expressions in such a small space. I was inspired by what I think is best summed up as the spirit of 'friendship in love'. It was important to me to capture the relaxed intimacy of a modern couple, without compromising the historical significance of the wedding itself."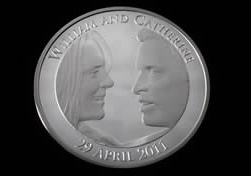 Former Buckingham Palace spokesperson Dickie Arbiter said: "To capture a true image of one person on a coin is a feat in itself but to capture two people with such a depth of feeling as Mark Richards has of Prince William and Catherine Middleton is truly remarkable."
Because of the coin's official status, the Royal Mint has already received thousands of pre-orders with global demand expected to exceed more than 250,000. The official UK Royal Wedding Coin is only the second UK coin ever struck by the Royal Mint to celebrate this hugely important event, the first being that of Prince William's parents The Prince of Wales and Lady Diana Spencer in 1981.
Kevin Clancy, Director of the Royal Mint Museum said: "The Royal Mint has produced coins for the British monarchy for over 1,000 years, and while this latest coin features the country's future King and Queen, it is actually a coin for the people who want to commemorate the Royal Wedding with their own piece of history."
The official UK coin to commemorate Prince William and Catherine Middleton's wedding is available now to pre order from the Royal Mint's website www.royalmint.com priced at £9.99. The coin is also available to purchase in the precious metals silver, gold and platinum.
For media enquiries, please contact the Royal Mint Press Office on 0845 600 50 18.