Revealing Five New Diamond Jubilee Precious Metal Coins
09 Jan 2012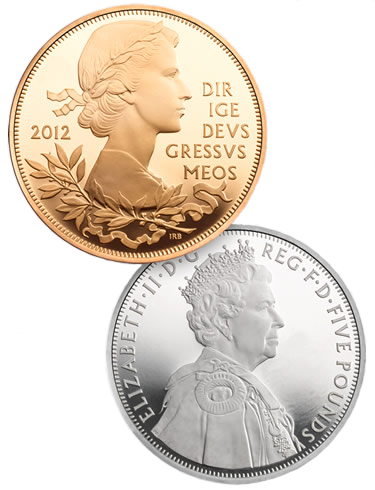 For Her Majesty The Queen's Diamond Jubilee in 2012, The Royal Mint has unveiled five new precious metal variations of the only official UK £5 coin struck to mark the historic occasion.
Like the Brilliant Uncirculated version released a few months ago, the coins have been designed by Ian Rank-Broadley FRBS to celebrate a regal achievement matched only by Queen Victoria, The Queen's great-great- grandmother. The portraits encapsulate The Queen's 60 years on the throne, and will appear exclusively on the Diamond Jubilee £5 coins, now available in Silver Proof, Silver Piedfort, Gold-Plated Silver Proof, Gold Proof and Platinum Piedfort.
The first of the new portraits shows a contemporary image of Her Majesty dressed in formal Garter Robes with gravitas and stately bearing. The other portrait is a tribute to Mary Gillick's youthful 1953 effigy; a classical depiction of a young monarch wearing a laurel wreath alongside the Latin words Dirige Deus Gressus Meos – May God Guide My Steps.
Combined, both portraits tell a celebratory story of a rich, historic reign, from the fresh and optimistic beginning of a new Elizabethan era to the gravitas of an assured and dignified Head of State 60 years on.
Commenting on the new coin, Kevin Clancy, Director of the Royal Mint Museum, said: "Ian's new portraits tell the story of The Queen's long reign with beauty and elegance and his artistry combines with the fine quality of these precious metals to create five beautiful coins that truly honour this remarkable occasion. The coins offer collectors a chance to mark this momentous achievement with an individual and treasured piece of history."
The official UK £5 precious metal coins to commemorate The Queen's Diamond Jubilee are available now from The Royal Mint's website www.royalmint.com.
For media enquiries, please contact the Royal Mint Press Office on 0845 600 50 18.