Royal Mints of the World Unite to Celebrate the Queen's Diamond Jubilee
08 Jan 2012
The Official 2012 Royal Silver Proof Set revealed
As the nation prepares to celebrate Her Majesty The Queen's Diamond Jubilee, The Royal Mint is proud to announce a unique collaboration which unites three stunning coins from the Commonwealth's three Royal Mints.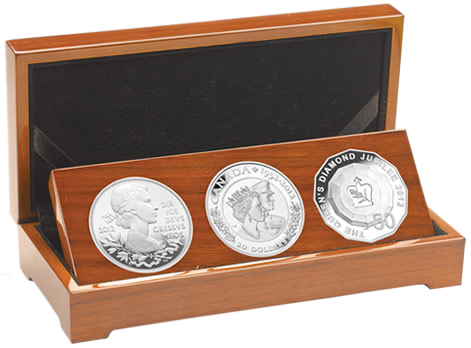 To celebrate Her Majesty's continuing role as Head of the Commonwealth, these celebratory coins have been designed to be treasured as lasting mementos of an historic moment in time. The Queen's Diamond Jubilee Royal Silver Proof Set contains three commemorative coins of varying denominations: 20 Canadian dollars, 50 Australian cents and five British pounds, with each design marking the historic anniversary that falls in June this year.
The first coin in the set is the UK's Diamond Jubilee £5 Silver Proof coin, featuring two new royal portraits of The Queen designed by Ian Rank- Broadley FRBS. The obverse portrait captures Her Majesty dressed in formal Garter Robes, with gravitas and stately bearing. The reverse is a tribute to Mary Gillick's youthful 1953 effigy; a classical depiction of a young monarch wearing a laurel wreath with the accompanying Latin words Dirige Deus Gressus Meos – May God Guide My Steps. The inscription, A Vow Made Good, runs around the edge of the coin.
The second Silver Proof coin in the collection is a striking $20 coin from the Royal Canadian Mint. The reverse of the coin, specially designed by Laurie McGaw, depicts portraits of The Queen and Prince Philip with a charming decorative border consisting of floral emblems of the UK intertwined with Canadian maple leaves. The obverse of the coin has been designed by Susanna Blunt.
The third commemorative coin featured within the set is Australia's dodecagonal 50 cent Silver Proof coin. The commemorative reverse of the coin has been designed by Michael Meszaros and features Australia's national flower, the Golden Wattle (Acacia pycnantha), within an outline of St Edward's Crown, the ultimate symbol of monarchy, all appropriately set within a multifaceted diamond shape.
The Silver Proof sets are limited edition and each is struck to flawless quality. Displayed within a bespoke presentation case of high gloss varnished wood veneer, the set also contains a certificate signed by the Deputy Masters of the Royal Mint, of the Royal Canadian Mint and of the Royal Australian Mint.
The Queen's Diamond Jubilee Royal Silver Proof Set is available from the Royal Mint's website www.royalmint.com priced at £299.00.
Images available upon request.
For media enquiries, please contact the Royal Mint Press Office on 0845 600 50 18.