The 200th anniversary of the birth of Charles Dickens celebrated with a new £2 coin from the Royal Mint
05 Dec 2011
The Royal Mint is commemorating the 200th birthday of literary giant Charles Dickens with the release of a £2 coin featuring a profile of the author created from titles of some of his most famous works.
Artist Matthew Dent has arranged well known titles from Dickens' novels to create a unique portrait of the author, literally in his own words. From his Sketches by Boz, to his last and unfinished novel, The Mystery of Edwin Drood, the coin is a uniquely styled bibliography of Dickens' literary masterpieces, referencing much loved classics including David Copperfield, Oliver Twist, Great Expectations and A Christmas Carol.
On the edge of the coin is an inscription which features the quotation "Something Will Turn Up" spoken by the ever optimistic Wilkins Micawber in David Copperfield, Dickens' own favourite story. A character based on Dickens' own father, Micawber's name has become synonymous with someone who lives in hopeful expectation.
As well as a £2 circulating coin, due to reach purses and pockets in spring next year, the Royal Mint has produced a series of commemorative coins, each designed to appeal to Dickens' enthusiasts around the world. Finished to a much higher quality than a circulating coin, the commemorative coins capture the author's profile with perfect clarity, from the Brilliant Uncirculated coin to precious metals of silver and gold.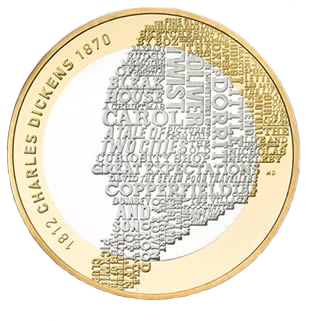 Commenting on the inspiration behind his design, Matthew Dent said: "I wanted the design of the coin to reference both the immense contribution Dickens has made to British literature and his iconic portrait.
The visual reference for the portrait was based on a bust of a bearded Dickens which is part of the collection of the Charles Dickens Museum in London. The typography that takes portrait form uses several different typefaces; from ones that would have existed during his lifetime, to ones that were designed since his death, symbolic of the enduring popularity of his work."
Dr. Kevin Clancy, Director of the Royal Mint Museum added: "Charles Dickens is one of our greatest authors and it is wholly fitting that his immense contribution to literature be commemorated on the nation's coinage. Matthew's design is both clever and subtle, playing with the importance of words to the extent that the portrait of Dickens is created from the titles of his own works."
Born on 7 February 1812, Charles Dickens is considered to be the quintessential Victorian author, with his unforgettable and often harsh depiction of nineteenth-century life. Drawing on subject matters from his own experiences, alongside inspiration from friends and family, his characters from novels including David Copperfield, Great Expectations and Oliver Twist have become true icons of English literature.
Celebrating a great literary past in the present for the Christmas season, the Charles Dickens £2 Brilliant Uncirculated commemorative coin is available at £8.50 from the Royal Mint website www.royalmint.com. Precious metal coins in Gold and Silver will be available from 30 January 2012. The Royal Mint is partnering with Dickens 2012, a celebration to mark the birth of one of the world's most inspiring authors and provide a legacy for future generations.
For media enquiries or images, please contact the Royal Mint Press Office on 020 7853 2390. Images of the Royal Mint and its products are available upon request.
About Dickens 2012
Dickens 2012, co-ordinated by the Charles Dickens Museum and Film London in association with the Dickens Fellowship, is an international celebration of the cultural and educational significance of the life and work of Charles Dickens to mark the bicentenary of his birth. Dickens related activity will take place all over the world under the Dickens 2012 banner to celebrate one of the world's most inspiring authors and provide a legacy for future generations.

Dickens 2012 partners include the BBC (Dickens on the BBC: November 11-February 12), British Council (International Dickens 2012 Programme: Nov 11-June 12), BFI (Dickens on Screen: Dec 11- March 12), Museum of London (Dickens and London: Dec 11-June 12), Museum Strauhof, Zurich (Charles Dickens: Dec 11-Mar 12), Penguin ('Charles Dickens, A Life' by Claire Tomalin and Special 2012 editions) and the Royal Mint (Dickens £2 coin).

Dickens 2012 has an expanding list of supporters, which includes names such as Simon Callow CBE, Sir Derek Jacobi, Sir Cameron Mackintosh, Miriam Margolyes OBE and Peter Ackroyd CBE, and is backed by the Mayor of London as a cultural highlight in 2012. www.dickens2012.org
For media enquiries, please contact the Royal Mint Press Office on 0845 600 50 18.