London 2012 Gold Coin Series Unveiled
30 Apr 2012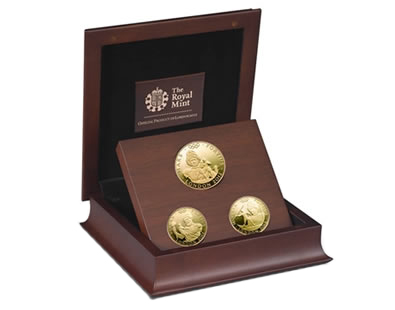 The Royal Mint today revealed the third and final addition to its London 2012 Gold Series commemorative coin range – the 'Stronger' set, an exclusive trio of coins inspired by the ancient Olympic Games crafted in fine 22 carat gold.
The Gold Series is a set of nine exquisite coins inspired by the Olympic motto 'Citius, Altius, Fortius' or 'Faster, Higher, Stronger', and 'Stronger' is the final set to complete the collection. Consisting of a one ounce coin and two quarter-ounce coins, the 'Stronger' coin set is one of the most luxurious ways to commemorate the forthcoming London 2012 Olympic and Paralympic Games.
As an Official Product of London 2012, the Gold Series is the only collection in The Royal Mint's London 2012 commemorative coin programme to feature the iconic Olympic Rings on every coin.
Inspired by the classical heritage of the Olympic Games and combined with modern sporting achievement, each of the three coins in the distinctive 'Stronger' collection features a different Roman God reflecting the third strand of the Olympic motto 'Fortius' or 'Stronger' : Mars, the God of War, watches over the sport of Boxing; Vulcan, the God of Fire, overlooks two mortals taking part in the sport of Hammer Throwing and Minerva, the Goddess of War, looks on as an athlete throws the javelin.
The obverse of each features the classic portrait of Her Majesty The Queen designed by Ian Rank-Broadley FRBS with the reverse designed by sculptor John Bergdahl, who has combined both classical and contemporary elements of the Olympic Games. The inspiration for Bergdahl's designs is the idea of the Roman Gods looking down on their creations, watching the Olympic Games, but only being able to observe, not interfere.
The Gold Series coins are presented in luxurious wood veneer cases featuring Olympic Rings and are guaranteed by individually numbered Certificates of Authenticity.
The Gold Series 'Stronger' range includes a One Ounce Coin (Mars), £2,300; a Quarter-Ounce Coin (Vulcan), £600; a Quarter-Ounce Coin (Minerva), £600; Two-Coin set (Minerva and Vulcan), £1,200; Three-Coin set, £3,500 and Complete Nine-Coin Collection, £10,500; available now from The Royal Mint's website, www.royalmint.com.
For media enquiries, please contact the Royal Mint Press Office on 0845 600 50 18.